Today, 25 of August 2014, one year ago Ilse and Maarten recorded the shot that would become the magic opening of Living the Tradition. We were at Cape Clear Island, Ireland's southern most inhabited island. We had set up the camera, microphone and cello at the highest point of the island at 5:30am, facing the North East and we were waiting for sunrise. There were quite some clouds at the horizon. Then suddenly rays of golden light broke through the clouds. The photographic composition was perfect, Maarten pressed the record button and Ilse did her most inspiring performance ever of the air Cape Clear, while the sun slowly rose above the clouds and put the landscape and the cello on fire…what an incredible moment! It was clear that this was going to be the opening shot for the film!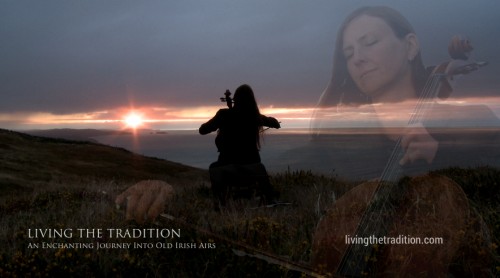 To celebrate the first anniversary of this moment, we are giving out 100 promo codes for a 50% discount on online rental or download of Living the Tradition. The promo codes are valid 
between now and coming wednesday the 27th of August 2014. 
Use  
LtT1YearRent
 (for rental)  or  
LtT1YearBuy
 (for download) at  
vimeo.com/ondemand/livingthetradition 
 (click on Rent or Buy and fill out the promo code after clicking at "Have a discount code" in the right side of the purchase window).  Listen to the recording here and spread the word!