Down by the Salley Gardens was a poem written by William Butler Yeats, first published in 1889 as "An Old Song Re-Sung, an attempt to reconstruct an old song from three lines imperfectly remembered by an old peasant woman in the village of Ballisodare, Sligo, who often sings them to herself."
In 1895 the poem was published under the present name Down by the Salley Gardens. This poem included no melody. In 1909 Herbert Hughes set the poem to the music of The Mourne Shore. Ilse found the tune is in O'Neills 1850 collection. There are words to The Maid of Mourne Shore which refer to the River Mourne, but the earliest publication seems to be by Sam Henry (1870–1952). He was was an Irish folk-song collector and The Maid of the Mourne Shore was published in Songs of the People which was a series which ran from 17 November 1923 to 1939 in the Coleraine newspaper The Northern Constitution.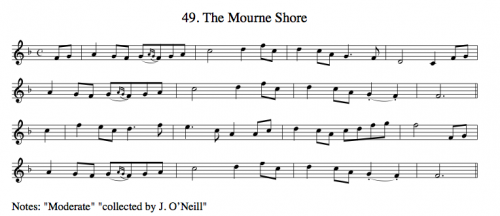 So it seems the melody Yeats originally heard was not the same as the melody we now know as Down by the Salley Gardens, but probably a song known as The Rambling Boys of Pleasure.
In any case, we decided to film the air at the shore of the river Mourne. It was on the fourth day of our journey. On the day before we identified a beautiful spot in a field near a small town called Sion Mills, just south of Strabane, County Tyrone.